Magnesium stearate is a very fine, light white, precipitated or milled, impalpable powder of low bulk density, having a faint odor of stearic acid and a characteristic taste. It mainly consists of variable proportions of magnesium stearate and magnesium palmitate obtained from vegetable sources.
Magnesium stearate increases the time it takes for tablets and capsules to dissolve due to the film it forms on capsule or tablet ingredients. Magnesium stearate coats a good portion of the molecules in a tablet or capsule, requiring digestive enzymes to break down the magnesium stearate coating before being able to access the nutrients it envelops.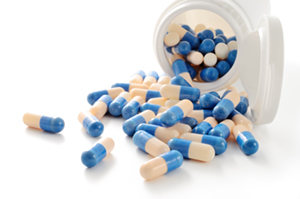 ADVANTAGES
Proper hopper flow can be achieved.
Minimal ejection force required
Efficiency in production could be achieved.
Life of Dies and punches improves.
APPLICATIONS
It is primarily used as a lubricant in capsule and tablet manufacturing.
Magnesium stearate is widely used in cosmetics, foods, and pharmaceutical formulations.
Used in barrier creams
It can be used as an anti-caking agent in food applications.
UNIQUE FEATURES of SANCEL
Increases tablet friability
Surface area > 10m2/gm.
Product Specification
Parameters
USP – NF
Description
A White or almost White, very fine, light powder, greasy to touch.
Identification A, B
Complies
Acidity or Alkalinity%
NMT 0.05 mL
Chlorides
NMT 0.1%
Sulphate
NMT 0.5%
Cadmium
NMT 3 ppm
Lead
NMT 10 ppm
Nickel
NMT 5 ppm
Loss on drying, %
NMT 6
Assay, %
4.0 – 5.0
Microbiology Limits
Total Aerobic Microbial Count, cfu/g
NMT 1000
Total Yeast And Mold Count, cfu/g
NMT 100
Escherichia Coli
Absent in 1g Sample
Salmonella Species
Absent in a 10g Sample
Packaging Detail
Available Packaging Type
| | |
| --- | --- |
| Type | Size |
| HDPE Bags | 25 Kg |
| HDPE Bags | 20 Kg |
| Paper Bags | 25 Kg |
| Paper Bags | 20 Kg |
| FIBC | 300 Kg |
*Our standard packaging is in 25 kg Bags. We can also customize packaging as per customers request at additional cost.
| | | |
| --- | --- | --- |
| Container | Palletized | Non-Palletized |
| 20 Ft. (Approx Wt.) | 10,000 Kg | 12,000 Kg |
| 40 Ft. (Approx Wt.) | 20,000 Kg | 24,000 Kg |